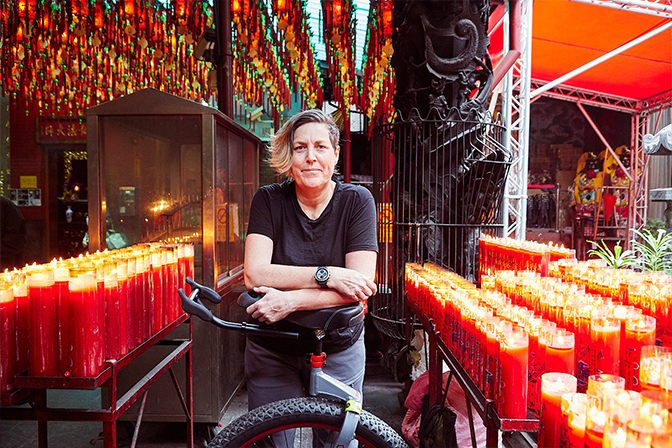 Kelli is based in ACT (Australia). She's humble, down to earth and a complete badass! Between 2018-2019, she unicycled across Taiwan, South Korea and North Korea. Kelli currently runs Women's Adventure ACT, a social enterprise based in Canberra helping women experience the outdoors in a safe, supportive and judgement-free way. Kelli has been nominated for Australian of the Year (2021), in the 'Local Hero' Award Category for the ACT.
Let's start with a hard one – how old are you?
I'm 54. But 50 is the new 30, right? [huge congrats to Macpac for being age inclusive with their ambassadors!]
Where are you from?
I grew up in North Queensland. I spent lots of time cycling between small towns, swimming in local creeks, exploring rainforests and wild camping with my family.
Can you describe yourself in 50 words or less?
I'm values-driven, and a community builder and connector. I'm all about bringing community together in the outdoors: increasing participation; creating opportunities for those with the knowledge and skills to pass those onto others; promoting diversity in our outdoors communities; helping to connect science with the outdoors, and giving women leadership opportunities.
I'm also an adventure unicyclist and the first person in the world to have unicycled in North Korea. I have a personal fascination with survival psychology (I once went 23 days surviving only on water..), I'm a huge learner and a believer in chasing big goals.
What's your earliest adventure memory outside?
Growing up, we had a creek near our house. I spent a lot of time swimming in that creek, dodging prickly weed, exploring the creek and racing my bike down a hill into the water (parental horror moment).
Tell us about your partnership with Macpac.
I've personally used Macpac gear for years – from when it was previously just a New-Zealand based company.
Over the last four years, I've run and led a local women's volunteer community outdoors group – Women's Adventure ACT. And Macpac has been a big part of that community.
I established a community Gear Library in 2019, because gear can be a barrier to getting women participating in the outdoors. Macpac very generously gave us some amazing outdoor kit through a Fund for Good Grant.
What piece of Macpac kit do you never leave home without?
I live in Macpac Pertex soft-shell pants. They're my daily outdoors 'uniform'. They're the most comfortable, practical pants for just about anything. I've worn them on international flights, and then gone hiking the next day. I've worn them unicycling and shopping and walking up Mt Kosi (not all of that in the one day!). They're the ultimate in comfort and versatility.
Tell us about your best day in the outdoors or on an adventure in 50 words or less.
I'd just finished my first ever big unicycle tour. Prior to this trip, I'd never ridden on the road, or more than 40 kilometres in one ride. But here I was — having ridden for ten days, the length of Taiwan — around 450 kilometres. On a unicycle. With gear. I was dirty and tired and sore, but elated and emotional — all at once. I'd done what I thought was impossible. And had an incredible adventure along the way!
Who's on your fantasy dinner party guest list?
I'm a bit of a quiet philosopher so I'd have to say people like Alan Watts – who is a guy probably closest to the meaning of life; Seneca and Marcus Aerelius because I'm a huge fan of Stoicism; and Alain de Botton with his no-nonsense approach to life using the 'best of philosophy' approach. I'd add Madonna in during dessert, because she's incredibly smart and has reinvented herself over decades.
If the world was about to end, where would we find you, what would you be doing, and who would you be with?
I'd be with my wonderful partner, watching an episode of the series, Alone. Enjoying a nice gin and tonic. And being grateful that I did my best at living a remarkable life.
How would you sum up your approach to life?
"We have two lives, and the second begins when we realize we only have one"
My personal philosophy is: Live. Give. Love and Learn.
Live: Set huge goals, and go for them. Experience everything you can.
Give: Help others, and give something back to the world.
Love: Be kind. Everyone is going through their own challenges in life.
Learn: Be curious and learn something.
You can follow Kelli's adventures on her social channels.
Instagram:
https://www.instagram.com/womensadventure_/
https://www.instagram.com/1wheelonly/
Twitter:
https://twitter.com/adventure_act
Website:
Facebook: