Adventure is for girls Caro Ryan
The outdoor scene has seen a change in the 21st century. There are growing communities of women in every corner of the globe who are confident and capable, leading the charge in their chosen outdoor fields and sowing the seeds of adventure for generations of girls to come. We're proud to call some of these fierce, female role models Brand Ambassadors, and in talking to them, we discovered a few common themes: there is strength in community, there is power in self-belief, and there is freedom in losing your fear of failure. In this 4-part series, we'll introduce you to 4 women who have made a life out of outdoor adventure. Caro Ryan is an Australian bushie, turned search and rescue leader, who is passionate about helping people get out and enjoy wild places, especially in her backyard – Sydney's Blue Mountains. Founder of her own outdoors hub online, LotsaFreshAir.com, Caro is the ultimate example of someone who wasn't raised to be outdoorsy, but found a love for adventure later in life.
What are the challenges that are unique to women in your area of outdoor expertise?
Caro: One of the wonderful things about bushwalking is that the practice of it is gender irrelevant. In that way it has parallels to many other outdoor pursuits and adventures, where on the surface there is no specific barriers for women, except those we create for ourselves by accepting cultural stories or gender norms around things like perceptions of femininity, self-sufficiency, personal safety or even believing that women can't read maps. It's from stories that beliefs emerge and from beliefs, excuses to not participate or not give something a go.
The challenge when jumping into bushwalking for women is overcoming self-doubt and proving to ourselves that we can do this, we can be at home in the bush and own this space which for many has historically been perceived as a blokey environment.
It's no surprise that the statistics for people lost in the bush (or bitten by snakes!) are overwhelmingly male. Men are more likely to just get out there in the bush, with some sort of inbuilt confidence and chutzpah, like they're just meant to be there, some sort of right. Women don't seem to have this assumption and are much more likely to not go out until they've worked out what they need, made some lists, gained some fitness, got the maps and then lacking the confidence will surrender their explorer or discovery gland and join a tour to be guided or sadly, not go out at all.
So, how have you overcome that stuff?
Caro: Many years ago, when I first realised I wanted to get into the bush, I had a goal. It wasn't a goal like going on a big trek or climbing a particular mountain, it was based on a photo I saw. It was a photo of a fit, healthy, strong young woman, hiking somewhere in the US. She had a massive smile on her face and the image spoke to me of freedom, of physical and mental strength and of utter one-ness with herself and her environment.
I wanted to be that girl, to have those moments of elation in natural places and to be fit enough to climb a mountain… with a smile. It was a goal of how I wanted my life to look. For me, the vision of working towards this life was stronger than listening to the doubts I had or the stories that culture prescribes.
Do you think it's more difficult for women to take part in outdoor activities than it is for men?
Caro: I'd like to say no, but some of us have some sh*t in our heads that can stop us, meaning that we can be our own worst enemies. On my YouTube channel I regularly receive instruction and correction from men telling me I'm doing it all wrong. Often it's accompanied by patriarchal comments which leave me in no doubt about how much I don't want to spend time with them in the outdoors despite their generous offers. Bless. I think I'd prefer to paint myself in vegemite and wander into Grizzly Bear territory, than be 'protected' by them and their big knives, guns, etc.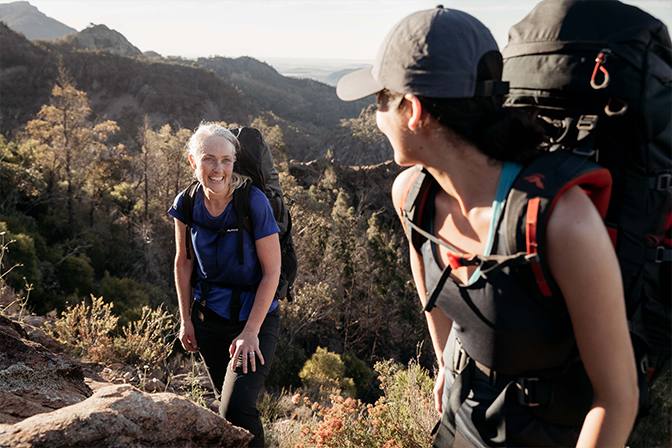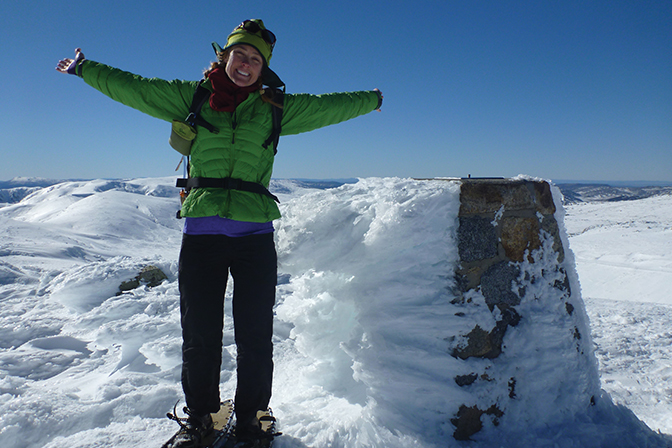 Caro Ryan, summit of Mt. Kosciusko | Summer Journal 2018
We know that communities can be super powerful – is there a strong community of female adventurers that you feel part of?
Caro: My foundations in the bush have grown out of my long term membership of The Sydney Bushwalkers Club. This club has a long history deeply rooted in gender equality being the first mixed gender bushwalking club in Australia, in fact, it was one of the main reasons it was started back in 1927 when the social norms of the time frowned upon men and women (wearing pants! Shock!) spending time together… in tents. I'm humbled to think that I'm in the same club as pioneering walkers like Dot Butler and Marie Byles, who were not only tough, fit and expert bushwalkers on all terrains, but paved the way for women in their professional lives also, where in 1928 Marie became the first female solicitor in Australia. Dot (who walked and climbed barefoot) was one of the two female members of the legendary 'Tiger Walkers'. This hardy bunch thought nothing of hikes up to 150 km in a weekend, undertaking feats that many of us would baulk at today.
My club has supported me when I led a series of women's only walks, designed to both increase our fitness together and learn map and compass navigation. I put these trips on because I found it discouraging when blokes would bound up the big hills/mountains, then state at the top that they'd been waiting for however many minites, or when I was navigating, they'd 'try to be helpful' and take over. Not all clubs are equal though, as another club I was in at the time had some people on their committee who thought the walks were discriminatory to men and wouldn't allow them on the program. No surprises, I'm not in that club anymore.
Much has been done around the women's adventure space in Australia over the last five years or so, with countless women's tour companies, MeetUps and Facebook groups being started. We've also had our first women's adventure magazine,Travel Play Live, launched in 2015. These have spawned communities, both online and off, to encourage and inspire women and in some ways, can help us deal with those lingering stories that sap our confidence to get outdoors and embrace adventure.
An exciting development was kicked off last year with the Australian Women's Adventure Alliance (AWAA) being formed after a weekend where 11 women from different adventure businesses or organisations got together for some heavy discussions, some bushwalking and just a few glasses of vino. It's still very much in startup mode, but watch this space.
How can other women tap into communities similar to Sydney Bushwalkers?
Caro: Finding a bushwalking club in Australia is as simple as checking out www.bushwalkingaustralia.org and visiting the local state. As above, not all clubs are equal, so do some detective work by stalking them on social media to check out their photos and trips and ask yourself if you want to hang out with these people and do those adventures?
A good Facebook group to start with is the Women's Adventure, Travel and Camping Hub which was born out of the TPL Magazine.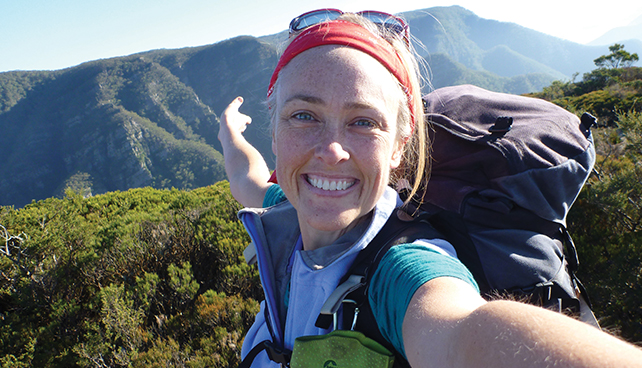 Caro in Kanangra Boyd National Park | Summer Journal 2018
What do we have to do to ensure the growth of positive communities, and to keep inspiring more women to embrace the outdoors?
Caro: It seems obvious and a bit confusing, but to grow, these groups need to… grow. By this, I mean that all these organisations or online spaces need people to run or administer them. They need passionate people who want to jump in, give up their time and help these communities become the kind of place they want them to be.
When I first joined Sydney Bushwalkers, I was the youngest there and could see a future where the club numbers were falling, which could lead to an unknown future. I jumped in and worked strategically to turn the club's membership around and worked hard to attract younger members. I wanted the great history, laid down by Dot, Marie and countless others to not disappear.
So jump in and volunteer, get involved and if you can't see the community you want to be a part of, start it yourself.
Are there women you've been inspired by in the outdoor community?
Caro: Definitely Dot Butler and Marie Byles. These women (and many like them at the time) were pioneering bushwalking routes and trips, not dissuaded by any lack of confidence mixing it up with the hard-core Tiger Walkers, yet did all these massive physical feats in a time when women wore long skirts. They didn't have all the fab modern hiking kit or clothes. To even be in pants, they wore second hand men's clothes and their backpacks were sometimes a pillowcase with two straps sewn on. They would cache their skirts and city clothes in the bush near the train station, so they could change back into women's clothes for the return journey, so as not to offend the travelling public. Oh and hiking boots? Forget that… it was hobnails for them, or in Dot's case… barefeet!