Raising kids to love the outdoors
For as long as I can remember, I've loved being outdoors. I have great memories of my Dad taking me out fishing, or going hunting in the mountains at a young age with my brother. When my husband Rhys and I began going out, our typical dates were surfing, hiking up mountains, snowboarding, going for mountain bike rides or adventuring to new beaches.
I guess we always hoped our future kids would love the outdoors too, but never knew exactly what that would look like.
When our first baby arrived, we were so thrilled to have a little one to love. We still went up the mountains to snowboard, but now we took turns while one of us looked after Fabian, or got our family to come and babysit. Although my life had changed forever now that I was a Mum, and we weren't able to go adventuring at the drop of a hat, there was such a sense of wonder that came from showing our child the world for the first time.
Our second child arrived soon after, and suddenly I felt very busy. Outside adventures turned to our backyard for a time. Before Anneke turned one year old, we moved to Hokitika, on the West Coast of the South Island. We didn't know a soul, yet a whole new world opened up to us. We were surrounded by mountains, bush, raw, rugged empty beaches and lakes, all within a 30 minute drive from home. This is where our life of taking our kids on outdoorsy adventures truly began. The bush became my sanctuary. If I had a rough night with the baby, or the toddler was fussy, we would head out together. I would strap the littlest on my back, and toddle along with the others through bush, enjoying the calm, green, lush places we discovered together.
The coast became the place where our next 4 children were born. Our little ones grew up learning to walk on bush tracks, with roots to navigate, mud to splash in and lakes to swim in. We began home-schooling our kids and being outdoors was an important part of their education to us.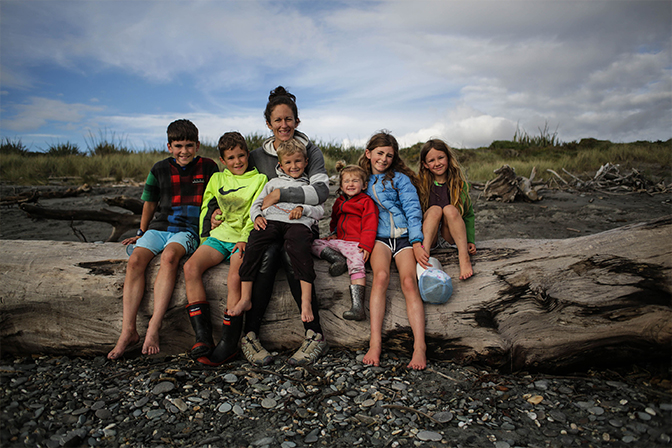 The Martin family enjoying Mother's Day at the beach
For me as a Mum, the outdoors is hugely important.
At home, the list of things to do is endless. Sometimes the repetitive nature of cooking, cleaning, washing, gets tiring. The best thing I have found if I'm feeling the monotony, and for all the kids as well, is to blast some good music, give the house a fast tidy up and get out of the house and go for a walk, go for a play at the beach, or go exploring a new area. We all come home with fresh perspective. It makes the mess seem achievable, the pile of washing doable, and dinner that night so much tastier.
I'm able to be so more present with our kids, when we're outdoors
I'm immersed in their world with them, watching them learn and giving them chances to take risks. I want our children to look back and remember that Mum and Dad weren't too busy doing all the things to take them on hikes, and that they will remember spending long summer nights swimming at the lake as we watch the sun go down. The memories that are being made is one of the biggest things that motivates me.
Being outdoors also teaches the kids to do hard things.
Recently my friend and I, and our 8 children combined, attempted a local hike up a mountain. It is a very popular track, with a hut at the top, with an uphill slog. We began the day early, not knowing how far we would get. Loaded with chocolate, snacks, lunch and plenty of keen kids we began.
The big kids were awesome. They could have walked the entire day. My 5 year old began to get tired after a couple of hours of uphill. 3 year old Gemma was protesting at the idea of being strapped on my back, but we had to up the pace to keep up with the big kids. We watched the time and stopped every hour, un-strapping Gemma from the carrier to play and walk for a bit each time.
Finally after about 3 and a half hours, we reached a high point halfway up the mountain, and looked out to the most magnificent view of the lake. We sat, and soaked it in. The achievement was enormous. We may not have made it to the top, but we had a great walk together. To this day they still talk about this trip. The view, the mud, the sore legs, the laughs, the jokes along the way. Every little bit of it made memories.
When we reached the bottom, the kids all jumped into the freezing river to clean off, and splash each other. Us Mums just sat there and smiled. This is what it's all about. The memories.
All things that are worthwhile, take hard work
I have this attitude that all things that are really worthwhile take hard work. I mean, the washing for 7 people when we come home from a walk in the mud and rain! Or keeping the tired child happy and motivated. But it's worth every muddy jacket and filthy pair of shoes.
Those little feet you are tying shoes up for now – those little legs turn into big legs in the blink of an eye. Before you know it they are as fast and as strong as you are, and you'll know it was time well spent. They say the days are long but the years are short, and it is so true. Spending time outdoors with your kids is an investment you will never regret.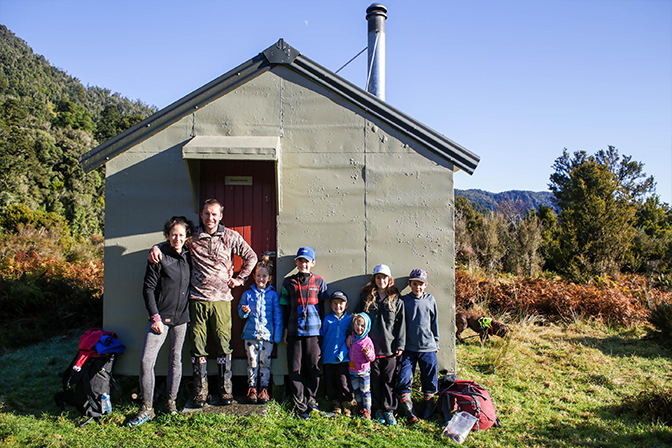 Adventures at Mikonui Flat Hut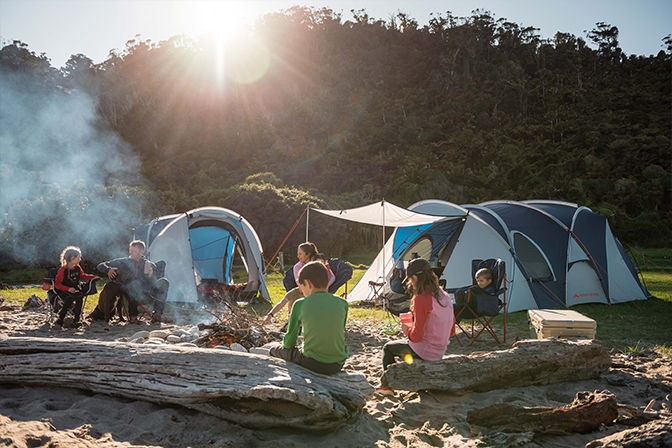 Camping at Gentle Annie's (West Coast), with the new Macpac Solstice tents
How to start if you're new to the outdoors
Start small and simple. Try a short walk with your kids, and make it exciting. Changing it up can be great, but kids also seem to love returning to a familiar spot.
Don't always wait for the perfect weather. Put on a raincoat and gumboots and go for a walk in the rain.
Come home and cosy up with a hot chocolate, or a massive ice cream in summer and chat about what you liked and disliked.
Let your older kids take part in the preparation; making and packing food to take is a great way to get them involved.
When the kids get tired, or it gets tough, have a little snack (always take PLENTY of snacks) and then carry on. You can play little games along the way to make it fun. You can follow the cheeky fantail. Meeting up with friends is a great way to motivate less willing walkers, they love to keep up with their mates.
Our favourite gear picks
We love our tough Macpac gear! Here are some of the essentials we use during adventures:
Fleece top – handy as it's lightweight and warm. If it gets a bit wet, it dries in no time.
Puffer jacket – easy to carry in the kids' packs if they get cold or to put on at a lunch stop.
Rain jacket – essential to keep the kids dry on rainy day adventures. Sometimes you've just got to get out in the rain. The world is a different, more magical place when it's dripping wet!
Caps – great for keeping the sun off the kids' faces in summer.
Merino thermals – merino thermals are my go-to for the kids, as a baselayer underneath. Merino is great for babies too, as it's non-itch and breathable!
Winger shorts – these are a family favourite, and little Gemma loves that she can match with her sisters and me!
Vests – a great option for keeping those little bodies warm on the cooler days that aren't so wintery.
Footwear – good sturdy footwear is essential to look after those growing feet. We invested in Keen boots early on and they have stood the test of time with multiple kids.
Baby carrier – this is great for getting out when you have a young one. My advice: do a trial run at home or a short walk with your carrier first. Some soft carriers keep baby close to your body which creates body heat from you both, and you don't want to end up both sweaty.
Tent – Having a great camping set-up makes it so much easier to get away and stay anywhere as a family. This summer we camped at Gentle Annie's on the West Coast and tested out the new Macpac Solstice 8 person family camping tent (in-store in January 2021). We loved it! It's spacious and easy to set up (the kids were able to help out). We know camping in the tent together, will become a massive part of their childhood memories.