In the right conditions, winter adventures can be truly rewarding. There's an added element to planning around the weather, braving the cold and avoiding the wet. But wearing the right gear can make all the difference when it comes to safety, comfort and overall enjoyment.
Nothing's worse than feeling underdressed. So with that in mind, we've put together a guide to what you should be looking for in your layering system.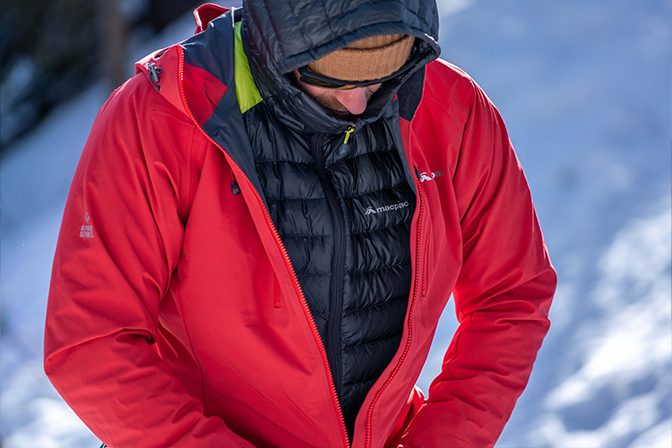 But first, what's a layering system?
Heading out in any environment, especially a cold one, is less about having one super warm jacket and more about having the right setup of layers that you can pick from before you leave home, and adjust on the fly should the conditions change.
When 'four seasons in a day' is a reality between as early as April and sometimes later than October — especially in New Zealand's South Island — it's essential to think of your layers in terms of a base, a mid and an outer. Within each layer, there's generally two options that we'll explain here. The right one for you will become obvious when you think about what you're heading outside for.
Ask yourself things like,
Will I be getting sweaty?
What will I wear against my skin?
Will it keep me warm if it's freezing outside, I get wet, and I'm an hour from the car?
Baselayers
Baselayers sit directly on your skin, forming the foundation of your layering system. Their purpose is to manage moisture, provide warmth, and stop you from getting cold. The fastest way to catch a chill is having a wet cotton garment on your skin, so you should absolutely avoid that. You've got two options when it comes to your baselayer: natural merino thermals, or synthetic thermals.
Merino Thermals
Merino wool is natural, renewable, comfortable and warm. High quality merino won't itch, is anti odour and feels soft on skin. But 100% merino isn't the best choice if you're active and likely to sweat. That's because wool naturally holds on to water. It gets heavy, damp and uncomfortable when wet. One way around this is to look for products that use merino wool with synthetic fabrics — like these Merino Blend Hike Socks, for example.
When to wear: Merino is great for stationary or low intensity activities, like watching the rugby from the sidelines on a crisp winter morning, or heading off on a short walk on a cool evening. It's popular among hikers who don't want to stink out the hut — or their pack — with the smell of the day's walk, either.
Pros:
Soft on skin
Natural anti-odour properties (wear it for days before washing!)
Anti-itch
A renewable and natural resource
Cons:
Less durable than synthetic thermals
Become heavy when wet
More expensive than polyester options
Don't dry as quickly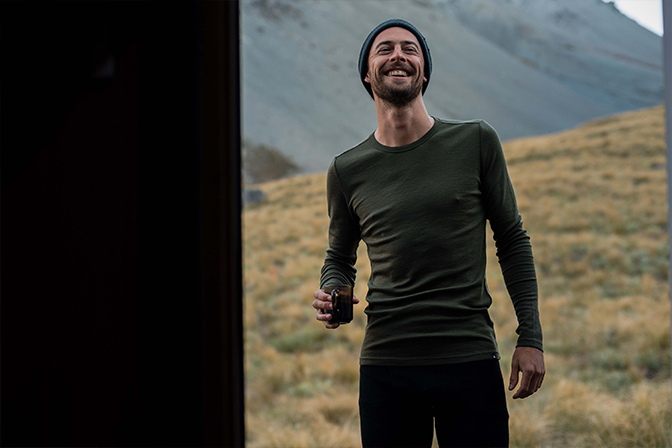 Synthetic Thermals
Most synthetic baselayers are made from polyester or a polyester blend. This material is known for its durability, technical performance, versatility and most importantly its moisture management. Because of this, synthetic baselayers are more suitable than merino when it comes to sweaty activities.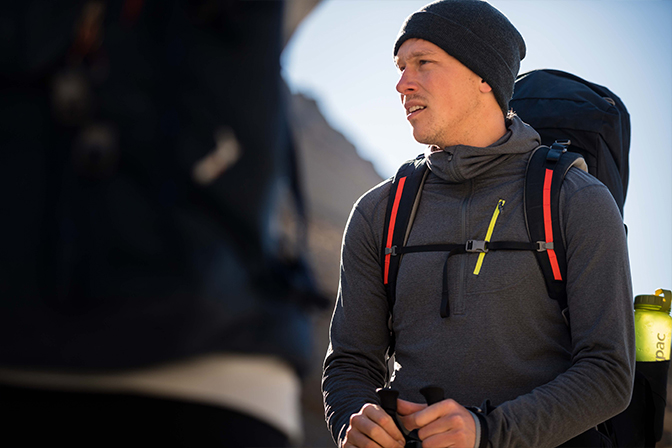 When to wear: Synthetic baselayers are great for medium to high-intensity activity. Our highest performing synthetic thermals are made using Polartec® Power Grid™, providing warmth and breathability without adding bulk.
Our pick: Men's and women's prothermals.
Pros:
Lightweight
Durable and easy to care for
Moisture wicking
Fast-drying
Great value
Moisture management
Cons:
Need regular washing - will smell after wearing in sweaty conditions
Doesn't have same natural temperature regulating ability as merino because it doesn't hold any moisture
Mid Layers
Because mid layers are whatever you're wearing over your thermals, picking the right one can be tricky. They're highly versatile and can be worn as an outer layer (more on those later) depending on the conditions. But in winter, when you're almost always going to team your mid layer with a jacket, it's all about insulation. You want to trap warm air close to your body and prevent cold air from getting in.
Merino Mid Layers
Merino mid layers team up well with merino baselayers. They're warm and comfortable if you're not generating much body heat through movement. They're also a good idea on a tramping or camping trip — not for use during intense periods of activity, but as a cosy option in the evenings.
When to wear: Merino mid layers are perfect for stationary or slow paced activities, or as a warm option once your body has cooled down.
Our pick: Ōhau 320 Merino Hooded Jackets (men's and women's).
Pros:
Soft on skin - comfy to wear
Naturally anti-odour - wear for days before washing
Anti-itch
A renewable and natural resource
Cons:
Less durable than synthetic mid-layers
Holds moisture - becomes heavy when wet
Slow drying
Fleece Mid Layers
Fleece is fast drying, continues to perform when wet, and provides great warmth. A high quality, synthetic fleece will also play its part when it comes to wicking moisture. The process starts at your skin and ends with the expulsion of that moisture through your outer layer.
When to wear: Fleece is great for higher intensity winter activities such as tramping, trail running and ski touring. It's also a versatile option for everyday life.
Our pick: men's and women's fleece ranges.
Pros:
Fast-drying
Continued performance when damp
Exceptionally warm
Highly versatile - works well for both high and low intensity activities
Hard-wearing - great in rugged conditions
Eco-friendly options available
Cons:
Less breathable than wool - could develop an odour after extended wear
Down Mid Layers
Down is nature's most efficient insulator — it's unmatched in terms of its warmth-to-weight ratio. It's also exceptionally lightweight and compact, making down jackets and vests easily stowable in your pack when you don't need them. Down mid-layers are best for cool, dry conditions where you're not sweating too much or prone to get wet, as down loses its ability to insulate when it gets wet or damp.
When to wear: When you're hiking or walking in crisp conditions, a lightweight down jacket will easily fit under an outer shell. Down is not suitable for high intensity activities like trail running or tramping.
Our pick: Uber Light Down Jackets (men's and women's).
Pros:
Fast-drying
Continued performance when damp
Exceptionally warm
Highly versatile - works well for both high and low intensity activities
Hard-wearing - great in rugged conditions
Eco-friendly options available
Cons:
Less breathable than wool - could develop an odour after extended wear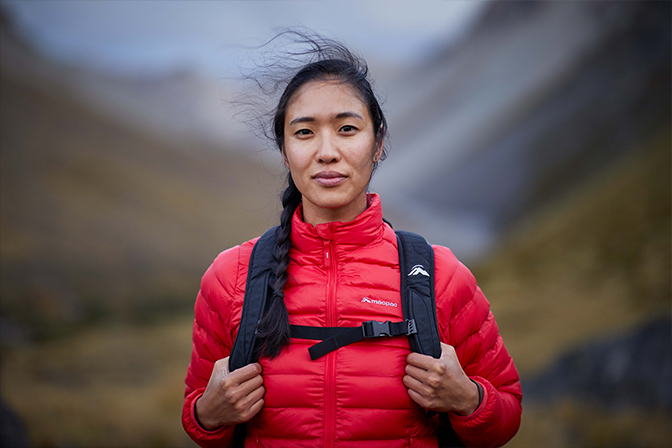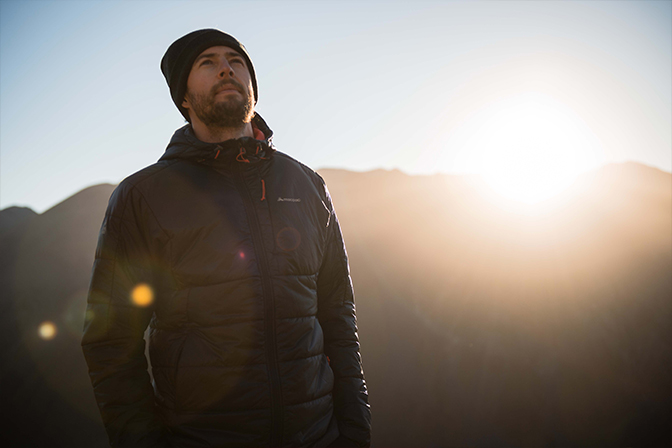 Synthetic Mid Layers
Synthetic insulation's key benefit is that it still performs when wet or damp. It's also low maintenance and easy to care for — you can wash it like any other garment. However, while it does offer great warmth and versatility, synthetic insulation doesn't compress quite as well as down. It isn't the best option if space is at a premium.
When to wear: Garments with synthetic insulation make great mid layers for medium to high intensity activities — particularly hiking or tramping trips where you are wearing a pack, might sweat, or if there's a chance it may rain.
Our pick: Pulsar PrimaLoft® Hooded Jackets (men's and women's).
Pros:
Continues to insulate when damp
Not generally as expensive as down
Low maintenance and easy to care for - wash just like any other sweater
Cons:
Lower warmth-to-weight ratio - heavier to get the same warmth as down
Not as lofty and soft as down
Outer Layers
As the name suggests, outer layers go on the outside. They protect you from the wind and rain — both significant factors when it comes to losing body heat — so water resistance and breathability are essential considerations.
Hardshell Outer Layers
Generally waterproof and wind-resistant, hardshells are an absolute must if you're heading into wet conditions, as they're the only thing keeping the rain (and snow) out.
When to wear: You don't need a hardshell at all times, but you should always have one in your pack if there's a chance it could rain. While waterproofness (measured by a fabric's hydrostatic head, or HH rating) is the key consideration in a hardshell, breathability (measured in g/m2/24hrs) also needs to be considered if you plan on breaking a sweat.
Our pick: Traverse Pertex® Rain Jackets (men's and women's).
Pros:
Weather protection - they'll keep out the wind and rain
Lightweight - won't slow you down with excess weight
Packable - easily stow away into the bottom of your pack, taking up next to no room
Cons:
Generally less breathable than softshells
Offer no additional insulation - simply keep the weather out
Can be noisy when moving - especially with the hood up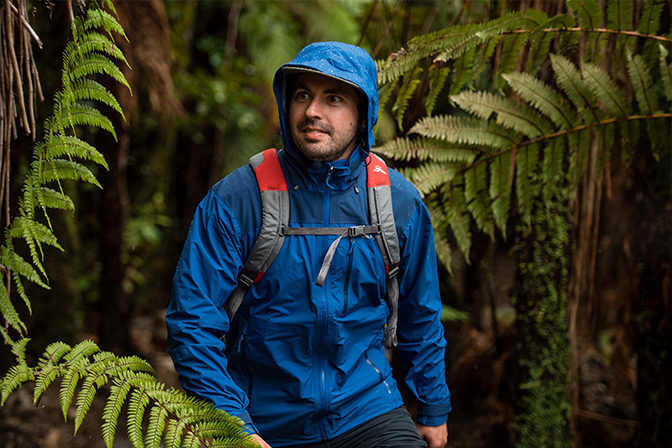 Softshell Outer Layers
There's a huge variety of softshell options available, but the key function of a softshell is wind resistance. A softshell is constructed from less rigid materials, so your range of movement and abrasion resistance will be greater in a softshell than a hardshell. Softshells will provide protection from the wind and light rain, and some have a soft fleece inner for extra warmth in winter.
When to wear: Apart from in situations where you're likely to experience extended exposure to damp conditions, or run into heavy rain: there's a softshell for most outdoor activities. It all comes down to how much you're likely to move, the type of activity you're doing and how much protection you think you'll need from the elements.
Our pick: Mannering Pertex® Hooded Jackets (men's and women's).
PRO TIP: for a lightweight hybrid softshell, check out the Pisa
Pros:
More breathable than hardshell rainwear
They often have thermal properties with fleece inside for extra warmth
Some are a lot less rigid and easier to move around in
More breathable and comfortable than hardshells
Cons:
Not fully waterproof. Suitable for light rain, but won't protect you from a heavy and sustained shower
Softshell jackets with membranes can feel a little heavier than some hardshells
If this happens, the trade-off may end up being between water resistance and weight
Insulated Outer Layers
Many people use an insulated jacket as their main outer layer — particularly for low intensity activities when they won't be moving much at all, or in extreme cold where you are unlikely to sweat. These layers are primarily for providing warmth, but they will protect from very light rain and ice if the garment has a durable water repellent (DWR) coating.
When to wear: Insulated jackets work best when you're not exerting yourself. They're generally not suitable for high intensity activities, however a synthetic insulated outer can be necessary if you're intermittently exerting yourself e.g. if you're belaying for another climber.
Our pick: Icefall HyperDRY™ Hooded Jackets men's and women's.