How to Pick Your Puffer Jacket
It's starting to get cold out there! Now is the time to start thinking about how you're going to keep warm when the chill really sets in. Whether you simply want something to keep you cosy on your morning commute, or if you're after a high performance jacket to battle the elements on a winter expedition, there are a number of things you should consider before investing in a new puffer jacket.
There are a few choices that need to be made when investing in winter warmth. Not all puffer jackets (or insulated jackets as we call them in the biz) are created equal, and each option available is designed to serve a different purpose. We figure that a well informed purchase can only come from an understanding of these three elements:
Insulation information – Synthetic or Down?
Measuring Warmth
Outer Material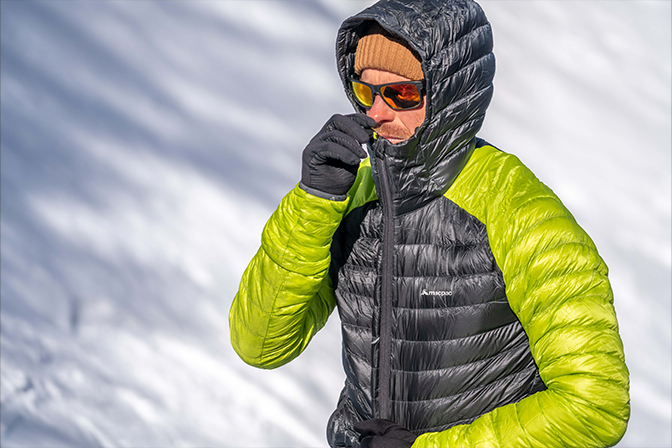 The Icefall Hooded Down Jacket
Insulation information – Synthetic or Down?
Macpac insulated jackets are filled with one of two materials; responsibly sourced, RDS duck or goose down, or a synthetic insulator such as PrimaLoft®. Each has its benefits.
What is RDS?
We're proud that 100% of our down products meet the Responsible Down Standard (RDS) — an independent, voluntary, global standard in the ethical sourcing of down and feathers. RDS ensures our down comes from humanely treated ducks and geese and helps to provide traceability in our supply chain.
Benefits of down insulation
High quality duck or goose down offers the best warmth-to-weight ratio of any insulation. It's perfect for puffer jackets and sleeping bags because it can easily be compressed into small spaces for packing, and has the unique ability to trap body heat in thousands of tiny pockets of air.
One thing to keep in mind is that down doesn't perform well when it gets wet – the plumules (feathers) clump together and lose their ability to loft (puff up). In an attempt to solve this problem, water-resistant down has entered the market.
We use HyperDry™ down in several of our insulated products. Although still not completely waterproof, this down is treated to provide greater water resistance and faster drying times than untreated down. You can find HyperDry™ down in our Icefall (men's and women's), Sundowner (men's and women's), NZAT Arrowsmith Hooded Down Jackets (men's and women's) and Ember (men's and women's) down jackets.
Benefits of synthetic insulation
While down is sometimes pitched as the ultimate insulator, the alternative does a damn fine job as well. Say hello to PrimaLoft®. This ultra-fine polyester microfiber blend is incredibly soft, light and warm. Similar to down, it keeps you warm by trapping heat in its masses of tiny air pockets. It also retains most of its insulating capability when wet.
If ease-of-care is important to you, it's worth considering a synthetic option such as our Southerly Jacket (men's and women's). Garments like this, although not quite as warm as premium down-filled jackets, are incredibly easy to care for, and still provide an excellent level of insulation. Unlike traditional down jackets, synthetic puffers aren't overly compressible, so they won't pack down as well as a down jacket.
Measuring Warmth
When comparing the warmth of down jackets, there's a lot to consider: fit, baffle design and length, just to name a few. At the end of the day, it's always going to be a trade off between warmth and weight, so before anything else you need to consider the activity you'll be using your jacket for most. Here, we are going to focus on two factors.
The first is the loft.
Loft (or 'Fill Power') is one measure of down quality (fluffiness). It is the space in cubic inches an ounce of down will occupy. This measurement takes the form of a number – e.g. 600, 750, 800 etc. Macpac down jackets use high quality goose and duck down with fill powers ranging from 600-800. The higher the number, the more effective the insulation.
The second is fill weight.
Fill weight is the actual weight of the down inside the jacket. For example, our 800 loft Icefall Down Jacket would be warmer than the same jacket made using 600 loft, because its higher lofting down means it has a greater warmth-to-weight ratio. However, if it's compared to another jacket with less loft but more fill, it won't be the warmer option. Our Sundowner is a prime example of this – it has 600 loft down but because it has a 205 grams fill weight compared to the Icefalls's 95 grams (men's) or 88 grams (women's, size 10), it is warmer. The trade off, of course, is that it's heavier and less packable.
Outer Material
It's not just about the insulation itself, but also what it's encased in. This outer fabric has a lot to answer for – it dictates the entire garment's performance from durability and warmth, right through to weather resistance.
We use a range of fabrics on our insulated jackets. Our outdoor essentials collection will generally feature classic 100% Nylon Taffeta as found in our Halo (mens and womens) and Uber Jackets (mens and womens). This is for a more classic look, best suited for wear around town and designed specifically to handle the wear and tear of daily life.
Our technical garments use performance outer fabrics by Pertex®. Jackets like the Sundowner are designed for maximum warmth, weather resistance and durability at minimum weight for harsh environments.
If you're still unsure about which insulated jacket is the right choice for you, head in store and talk to an expert! Knowledge is power. Arm yourself with the tools to make an informed puffer jacket purchase, and you'll be ready to take on the elements for many winters to come.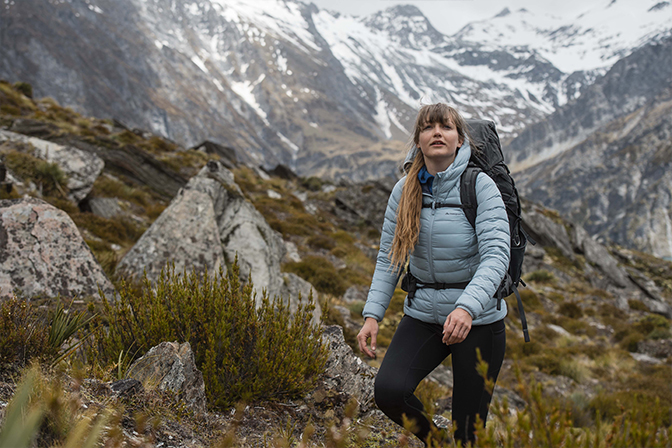 The Uber Light Down Jacket